Type RSBW is a DC sprag type freewheel. It is self-contained, centered by plain bearings for low rotational speeds and sealed using shield protected Outer Rings.
Unit is delivered grease lubricated ready for installation in either a horizontal or vertical position.
Primarily used as a backstop, this type provides a high torque capacity with a minimum space
requirement.
The design allows installation in difficult environments such as high humidity or water splash areas.
A bolt, secured to a fixed part of the machine and passing through the slot in the torque arm,
provides the rotational stop. Radial clearance on this bolt should be equal to 1-3 % of the slot
width. The torque arm and the bearings must not be prestressed.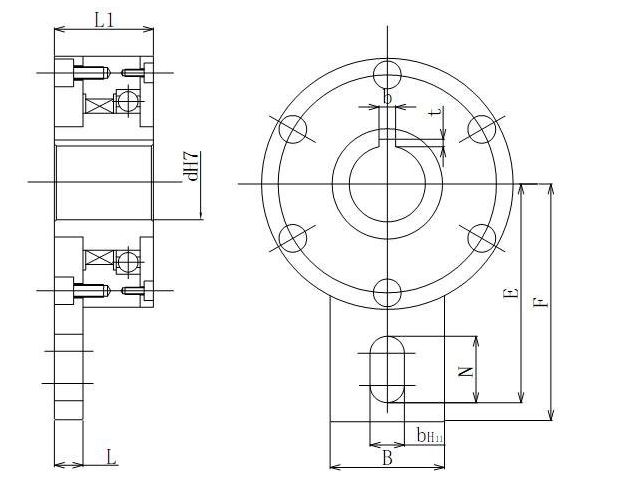 Type
Size
Overrun
speed
Weight
RSBW
dH7
TKN1)
nimax
D
L 1
F
E
B
N
L
bH11
[mm]
[Nm]
[min-1]
[mm]
[mm]
[mm]
[mm]
[mm]
[mm]
[mm]
[mm]
[kg]
20
375
400
106
35
113
102.5
40
35
15
18
2
25
606
400
106
48
113
102.5
40
35
15
18
2.6
30
606
400
106
48
113
102.5
40
35
15
18
2.5
35M
375
400
106
35
113
102.5
40
35
15
18
2
35
606
400
106
48
113
102.5
40
35
15
18
2.4
40
1295
300
132
52
125
115
60
35
15
18
4.6
45
1295
300
132
52
125
115
60
35
15
18
4.5
50
1295
300
132
52
125
115
60
35
15
18
4.5
55
1295
300
132
52
125
115
60
35
15
18
4.4
60
2550
250
161
54
140
130
70
35
15
18
6.5
70
2550
250
161
54
140
130
70
35
15
18
6.4
80
4875
200
190
70
165
150
70
45
20
25
9.9
90
4875
200
190
70
165
150
70
45
20
25
9.8
RSBW Backstop Clutch RSBW series (RSBW20 ~ RSBW90)
Product Code: RSBW
Availability: In Stock