One Way Bearing Backstop Clutch / Complete Freewheels FRHD
Features of one way bearing backstop clutch
Complete freewheels FRHD with lever arm are sealed sprag freewheels with ball bearings.
They are supplied oil- filled and ready for installation.
The freewheels are arranaged on through shafts or shafts ends.
Application of backstop clutch FRHD
One way bearing clutch are designed for use in inclined conveyor, belt systems, elevators and pumps. Taconite seals protect the back- stops when conditions are dirty and dusty.
Various type of complete freewheel backstop clutch for your choice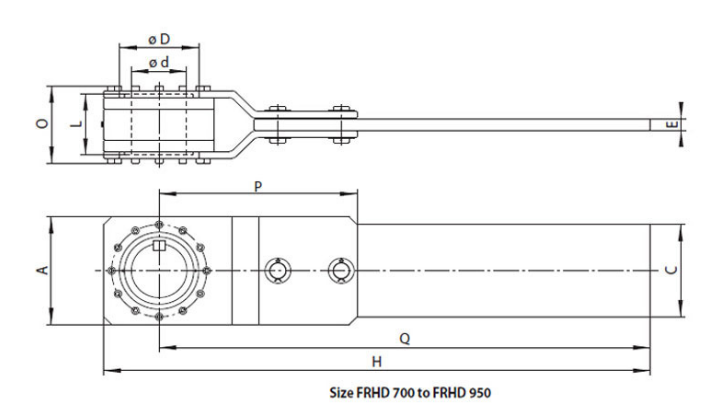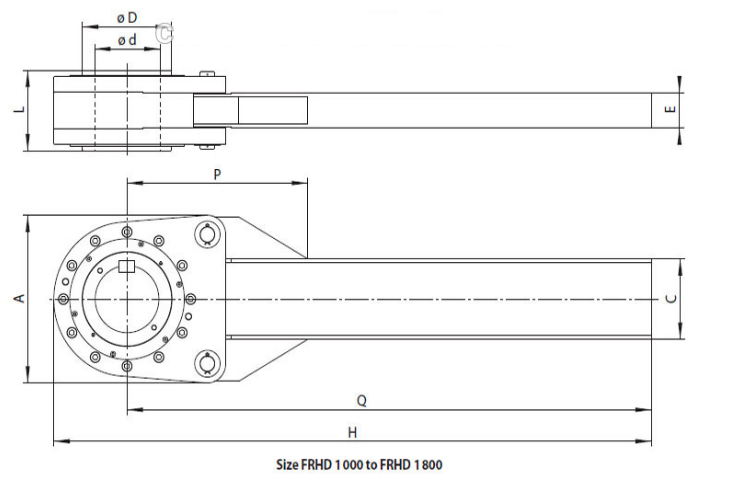 Freewheel
size
Max
torque
lb-ft
Nominal
torque
lb-ft
Max inner ring speed
rpm
Bore
d max.
A
inch
C
inch
D
inch
E
inch
H
inch
L
inch
O
inch
P
inch
Q
inch
Weight
lbs
FRHD 700
7500
3750
620
3.44
8
6
5.25
0.5
36
6
6.75
16.38
32
135
FRHD 775
15000
7500
540
3.75
9.75
8
6
1
42.88
7.5
9
20.38
38
310
FRHD 800
24000
12000
460
4.5
10.5
10
7
1
43.25
8
9.5
22.13
38
360
FRHD 900
37000
18500
400
5.44
12
10
8
1.5
54
7.63
9.38
22.75
48
480
FRHD 950
46000
23000
360
7
14
12
10
1.5
69
8
10
25
62
530
FRHD 1000
56000
28000
360
7
17
8
9
4.13
80.38
8.75
-
23.13
72
550
FRHD 1100
90000
45000
360
7
17
8
9
4.13
80.38
10
-
23.13
72
795
FRHD 1200
185000
92500
250
9
23
10
12
4.94
89
11
-
28
78
1300
FRHD 1300
220000
110000
220
10
25
12
14
5.25
95
12
-
30
82.88
1674
FRHD 1400
280000
140000
200
12
30
18
16
6.25
107
13
-
36
94
2200
FRHD 1450
380000
190000
200
112
30
18
16
6.25
107
15
-
36
94
2500
FRHD 1500
580000
290000
200
12
31
18
15.13
6.25
107
17.62
-
36
94
2440
FRHD 1600
746000
373000
140
14
32.5
20
17.63
6.25
124
19.25
-
30.44
108
3400
FRHD 1700
1250000
625000
120
18
42.5
24.5
23
7.88
140
20
-
48
120
7000
FRHD 1800
1800000
900000
100
21
52
30
26.5
10.5
170
23
-
54
144
12000
One Way Bearing Backstop Clutch / Complete Freewheels FRHD
Product Code: FRHD
Availability: In Stock